HomeMatic – we make smart homes simple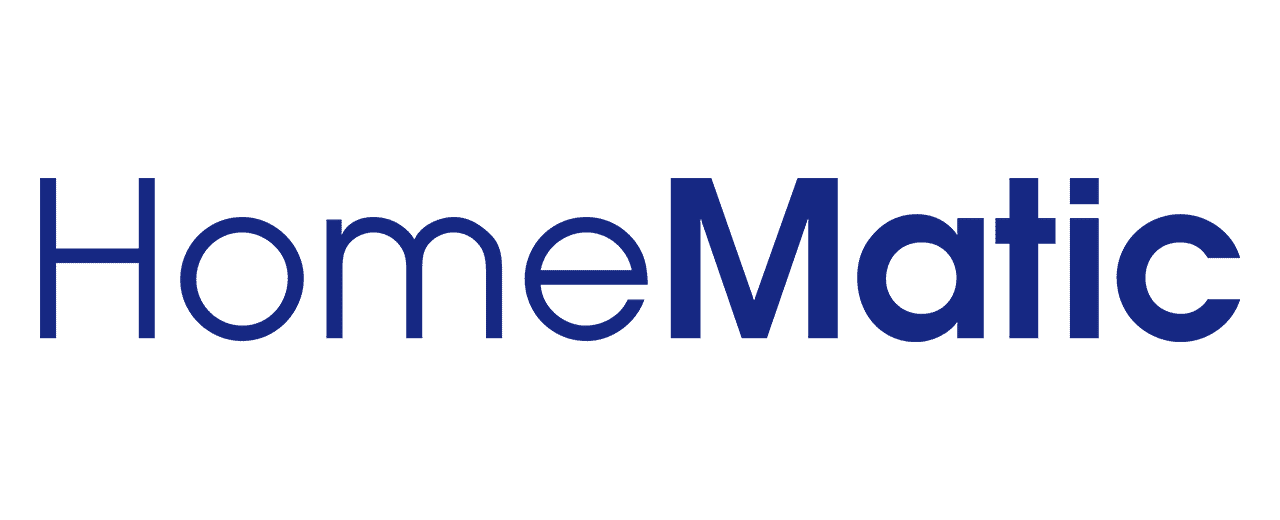 HomeMatic – we make smart homes simple
Homematic provides a practical solution for almost every situation in the home: The home control system makes your everyday life easier and performs repetitive operations in the home for you, such as retracting canopies, closing shutters or opening garage doors.
Homematic's open interfaces make it possible to integrate software and hardware solutions provided by partners. These include apps and cloud services offered by partners on an independent basis for controlling Homematic via smartphone and tablet.
The most significant technical advantages at a glance:
Convenience
Control via the Central Control Unit, remote control, PC software or a smartphone.
Reliability
100% availability due to the latest wireless technology. Direct feedback via bidirectional transfer of the protocol.
Expansion

The system can be expanded at any time. The numerous applications can be significantly expanded due to the variety of components.

Control units and gateways
Homematic devices can be connected to one another and programmed via the control units and gateways. The Homematic Central Control Unit CCU2 is responsible for numerous control, signalling and supervision functions across all areas of the Homematic system. The device includes a browser based user interface...

Heating and climate control
Homematic Radiator Thermostats offer demand-based room-by-room control of radiators in connection with Homematic Window Sensor and Wall Thermostats. Homematic products regulate the room temperature and air quality. The bathroom is warmed up to 24 °C in the morning without wasting energy at night. Shutters open and close when...

Lights
Over the last ten years, the number of light sources in houses has considerably increased. This implies a growing desire for comfort and the need for triggering recurring lighting scenarios in the house, e.g. for joint dinners or comfortable movie nights at home. Different applications of the Homematic areas light, awning and shutter control...

Shutters and awnings
Using a combination of different actuators for indoor and outdoor areas, you can easily realise individual programs and scenarios for your personal shutter and awning control. Besides a basic shutter control, extended functionalities can be integrated into your smart home with Homematic. By slowly waking up in the morning as the shutters will be raised step by step...

Security and surveillance
Homematic Window and Door Contacts detect any doors or windows which have been left open. Wireless motion and smoke detectors ensure that inside and outside areas are continuously monitored. Homematic products increase the protection against break-ins and, however, the sense of security in your own four walls. There is no need to worry about...

Windows and doors
You will no longer have to carry around your bunch of keys during running! Simply connect any kind of fingerprint sensor with a push-button interface to the Homematic CCU2 and the KeyMatic will open your front door. Even windows that are difficult to access can now be used for ventilation. Simply install the WinMatic on...

Remote controls and push-buttons
Homematic remote controls and push-buttons offer flexible control of different Homematic devices according to your personal needs. Application fields are for example light, shutter and awning control. With the broad range of remote controls and push-buttons, there is an appropriate operating device for every application. Different use cases such as fast actuation in the event of an alarm, or multi-functional and flexible control of different...

Weather and environment
Homematic measures different weather data and is able to use that information for controlling various Homematic components. A storm is coming up and you have forgotten to retract your awnings? No worries: The Homematic Weather Data Sensor records the wind velocity and automatically triggers retracting of awnings depending on...

Switching and metering
The number of energy consumers per household has considerably increased in recent years. Although the comfort could be increased in many ways with today's technology, it is still important to detect the energy wasters in the house. This is possible e.g. with Homematic Plug Adapters with power metering. Comfortable on and off switching of...

DIN rail modules
Using wired Homematic modules, the electrical installations for the entire building can be controlled intelligently. They communicate with one another via the Homematic bus and can be programmed and addressed accordingly. The central control unit can be used to easily reconfigure the system at any time. Since each component can be configured individually, virtually any scenario is possible, even post-installation without having...

International product variants
With the international product variants of Homematic, the Homematic system can be operated in European countries that e.g. use other socket types. This enables easy operation of the system for example in Great Britain, Ireland and Italy. In addition, the product variants...

Adapters for brand switch systems
If you plan to make your home more and more comfortable using intelligent technology, existing electrical installations can be upgraded by installing Homematic flush-mount actuators for brand switch systems. And there is no need to completely exchange the existing switch series! The existing living concepts can thereby be maintained in terms of style...
Source: www.eq-3. com/products/homematic.html
Related posts

Before explaining why KNX & smart home systems are so important, we must...